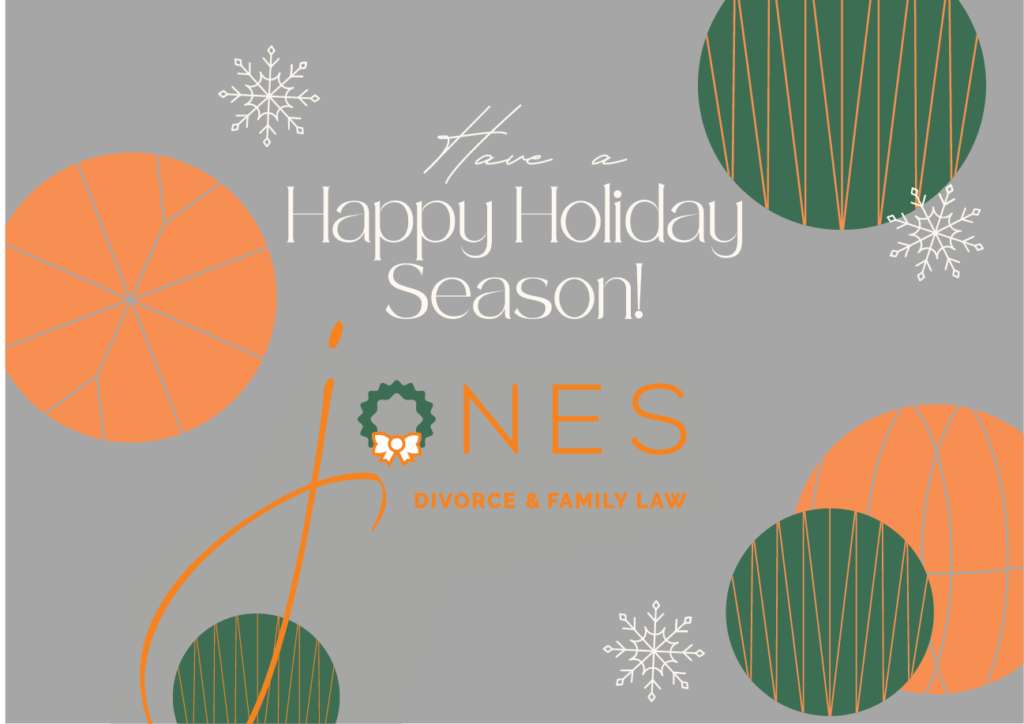 Happy Holidays From Jones Divorce & Family Law
From all of us here at Jones Divorce and Family Law, we'd like to wish you a happy holiday and an abundant New Year!
With the holidays fast approaching, it's a time of excitement and anticipation. However, we understand that for many, it can also be a time for stress and anxiety.
For this reason, we have compiled a list of 3 mindfulness tips to help ease your tensions this holiday season.
1. Welcome the Imperfection
For many, we want the holidays to be absolutely perfect. The perfect dinner, presents, guests, and the list goes on. However, this can become a stress-inducing nightmare when things don't go as planned.
The superior approach is to planing as best you can, but to NOT over plan.
Welcome any changes. Be open to others' suggestions, and don't set too high of expectations from your guests. This is a much healthier state of mind – that once adopted – will produce a far better solution compared to micro-managing every step to create the "perfect holiday."
2. Remember What Truly Matters
Unruly consumers, extensive shopping lines, gridlock traffic, etc., and many other irritating factors can almost suck all the joy out of the holidays. Whenever you feel run down from the craziness that often accompanies this time of year, remind yourself of a few things:
Nothing is nearly as bad as your mind makes it out to be: Irritated by an arrogant Christmas shopper who stole your parking spot? Remember that it's just a parking spot and you'll find a new one in a matter of minutes.
You're in control: Regardless of what inconveniences happen as you traverse the holiday season, remember that you ultimately decide what circumstances mean. Good or bad is a matter of perspective.
3. Be Patient
The expectations of the perfect holiday can sometimes bring stress to someone. This can make them act unfavourably, which in turn, causes more stress. Instead, you can react positively. Here are some things to help you respond better:
It's not about you: Remember that people won't say or do anything that isn't a reflection of how they feel about their lives and themselves. With this simple truth in mind, the next time someone is difficult, remember that it has nothing to do with you and everything to do with them.
Remember to breathe: If tensions rise with somebody at any time, don't let it boil over. Breathe; slowly and deeply. Center yourself before you react based on your emotions in the moment.
Conclusion
We at Jones Divorce and Family Law continue to strive to resolve complex family matters going into 2023 and beyond.
This is all done with care and in a timely and cost-efficient manner. We provide resolutions from:
Book a consultation with us to learn more.
We are a Calgary-based business, and as such, we take immense pride and satisfaction in being able to serve the wonderful families of southern Alberta.
We truly appreciate you for choosing us, and we are excited to continue providing you with exceptional service going into 2023.
Disclaimer: The content provided in the blog posts of Jones Divorce & Family Law is general information and should not be considered legal advice. Please contact a lawyer for legal advice tailored to your specific situation. All articles are current as of their original publication date.