Legal

Separation Agreements

in Alberta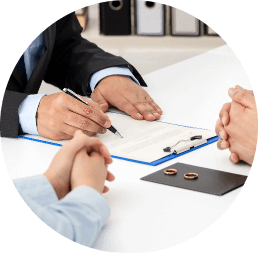 A well-crafted separation agreement serves as a legally binding contract between you and your spouse during the process of divorce. While it doesn't formally end your marriage or begin divorce proceedings, it lays out the agreed-upon terms for matters like property distribution, child-rearing, spousal support, and more. This agreement can later form the foundation of a divorce decree, providing a smoother and less contentious path through separation. Given the weight of such a document, it's natural to encounter complexities.
Hiring a lawyer with plenty of experience in legal separation agreements is crucial. When it comes to navigating the complex world of divorce, at Jones Divorce & Family Law, our lawyers can offer insights on securing an optimal resolution for your case.
We understand the emotional and legal challenges that come with the possible dissolution of a marriage, and we are committed to helping you achieve the best possible outcome.
About

Legal Separation Agreements
When you and your ex reach an agreement on the many issues that arise as a result of a separation and divorce, you'll need to convert your arrangement into a document that is legally binding and enforceable in order for both of you to be protected. That document can be called many different things:
Minutes of Settlement
Separation Contract
Separation Agreement
Divorce and Property Agreement, etc.
Regardless of what it is called, an agreement is a critically important document that sets out your legal rights and obligations, including your parenting, support and property rights.
In such scenarios, partnering with a separation lawyer skilled in handling legal separation agreements and well-versed in Alberta family law is crucial. An attorney with this expertise will help you create a binding legal document.
Requirements of Legal Separation Agreements
There are specific requirements that must be met in order for such a document to be legally binding and enforceable. Those requirements are set out in legislation and have been interpreted through our courts. You need your agreement to be done correctly. You need to know you can rely on it, that your spouse cannot alter it unilaterally, and that it will be upheld, if necessary, in court.
Have confidence in your agreement by acquiring proper professional legal assistance from our experienced separation lawyers. We have the knowledge and experience to ensure that you are protected by your agreement and that your agreement actually accomplishes what you wish to achieve.
Why Consider a Legal Separation Agreement?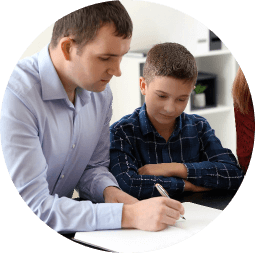 Though not a legal necessity, a separation agreement can streamline the divorce journey in several crucial ways:
It demonstrates to the judge that primary concerns, like children's well-being, asset distribution, and spousal support, have been thoughtfully addressed. This often results in a quicker and more cost-effective divorce.
The agreement is concrete proof of the mutual decisions between both parties.
It allows couples to dictate the terms of their separation rather than leaving decisions up to the courts.
It delineates both parties' rights and obligations as a legally binding contract, minimizing future disagreements and potential conflicts.
An agreement can pave the way for a more amicable separation, benefiting everyone involved—particularly children.
If a spouse neglects their responsibilities as stated in the agreement, like neglecting a child or spousal support, the agreement provides a legal foundation for enforcement.
It can be a clear communication tool, informing family and other involved parties about the separation's specifics.
Financial institutions, including entities like the Canada Revenue Agency, can recognize the agreement to verify the separation's terms. In essence, a separation agreement is a tool to make the divorce journey more manageable, potentially saving time and money.
Why You Should Consider

Hiring a Family Lawyer?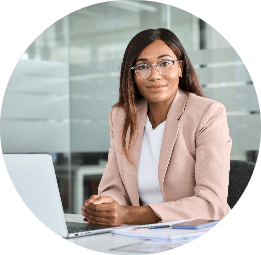 While you can draft an initial separation agreement using various online services, it's essential to have it reviewed and finalized by a legal professional. Precision is crucial given the significance of this document in shaping your divorce's outcome. A well-drafted agreement ensures clarity, avoids ambiguity, and is enforceable. For most couples, achieving this standard necessitates a skilled separation lawyer's guidance.
You and your partner should consult separate separation lawyers to ensure the agreement's legal validity. Your attorney's role isn't just to review but to verify that you comprehend the agreement, that it echoes your wishes, and that you commit to its terms.
Our senior partners have years of experience drafting separation agreements and know the nuances associated with the enforceability of separation agreements. Let us assist you in obtaining the peace of mind which comes with a secure and well-crafted agreement.
" I have worked with many of the lawyers at Jones Divorce Law LLP and can honestly say they are all amazing. I am currently represented by Holly Lonseth who has the perfect balance of knowledge, compassion and objectivity. She meticulously crafted a brilliant argument/case for me and I feel so proud to have her in my corner. Her work ethic and attention to detail is outstanding and I feel like she knew my case better than I did. "
– H.H.
"I'd like to express my deep gratitude to Lindsay Ewens-Jones for her patience, professionalism and legal guidance over the past two years. Not only is Lindsay an amazing lawyer, she's a fantastic human being. The genuine compassion, empathy and personal support she showed my family was invaluable throughout our battle.
In a perfect world, I wouldn't need the services of legal counsel going forward, but if I do need legal counsel again, it's an incredible comfort to know that I'll have one of the best in my corner".
– A.B
Thanks Lindsay. You have been exceptional. While I hope that I never need to contact you in the future, I wouldn't hesitate to do so.
-S.S