What is

mediation?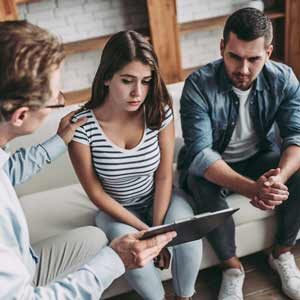 Mediation is a way to resolve a dispute that involves the assistance of a specially trained neutral third party. The independent party assists the parties through an interest-based process, manages effective communication and helps the parties reach a mutually agreeable resolution.
In the event mediation is successful, parties enter into a legal contract outlining the terms of their settlement. If mediation does not result in an agreement, either party is free to pursue other action, including litigation or another form of alternative dispute resolution. Mediation can either be lawyer-assisted or attended only by the parties to the dispute.
Mediation can be combined with arbitration in a hybrid process that involves parties first attempting to resolve all of their issues by agreement in a mediation and then having the mediator conduct an arbitration hearing and render a final and binding decision for whatever issues remain unresolved, if any.
Step 1 - Intake:

Understanding the Process
Initial meeting to establish the path towards a mutually agreeable resolution. This involves:
A review of the mediation procedure and ground rules for effective communication;
Background information is discussed, interests are explored, and mutual goals are identified;
A discussion regarding the parameters by which an acceptable resolution can be measured, including relaying information about the legal framework as it applies to your circumstances;
A determination as to whether a temporary interim plan is required; and
An agenda is established and the mediator will provide actionable items for each party to complete prior to the next session.
Step 2:

Foundation Work
Foundation work involves gathering all the information required in order to move forward with a meaningful and effective negotiation on the terms of settlement. This includes:
The collection and exchange of financial disclosure;
The creation of a property division chart, which is a financial snapshot and the foundation of property division negotiations;
The preparation of child support and/or spousal support calculations; and
The potential engagement of specialists that may be needed for the negotiation process, such as a real estates appraiser, business valuator, pension valuator or parenting expert.
Step 3:

Negotiation and Settlement
Parties to share goals and evaluate possible resolution options. The mediator will help parties get creative and brainstorm multiple options that can work for their unique situation. The mediator also takes the parties through each issue in a logical and methodical manner to ensure nothing is missed and parties end up with a settlement that is as detailed as they wish and require. Tentative agreements are established on each issue before the entire settlement on all matters is reviewed and confirmed.
Step 4:

Solution and Agreement
The mediator will help to evaluate the pros and cons of different solutions so that parties select a practical and fair agreement that addresses both parties' interests and concerns. The mediator prepares a detailed written document reflecting all the terms of the settlement achieved. There is a thorough review to ensure that any wording issues are resolved before the final agreement is confirmed.
Our

mediation experience
Our senior divorce lawyers have extensive experience representing clients in mediations and mediation / arbitrations as well as conducing mediations and acting as the independent third party mediator or mediator / arbitrator.