The

divorce process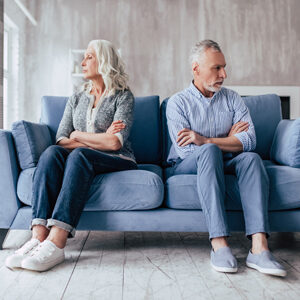 The breakdown of a marriage is often overwhelming and emotionally draining for those involved. The divorce process itself is different for all parties.
Depending on the situation, some couples work together to settle their outstanding matters through alternative dispute resolutions such as a settlement meetings, mediation or negotiation.  Alternatively, parties may resolve matters by formal litigation which involves filing pleadings and going through the Court process. The length of time and methods used to finalize a divorce vary based on the unique situation of the parties and the choices they make.
If you have questions about your particular situation, please contact one of our divorce lawyers.
How

a divorce lawyer can help
While the divorce process is different for all parties, most divorces start with each party obtaining legal counsel or agreeing to attend mediation or arbitration without the intervention of any Calgary family law and divorce lawyers. In most cases, a file begins with an exchange of basic financial information or disclosure.
A large part of the divorce process is gathering financial information about each party, to ensure that the divorce process is fair. The disclosure process is meant to provide an overall picture of the income, real and personal property of the parties so that issues regarding support and division of assets and liabilities can be resolved – this is where divorce law services in Calgary can really help.
In order to be legally divorced in Alberta, you must meet certain requirements:
You and/or your spouse must have been an ordinary resident in Alberta for at least one year.
You must meet one of the following grounds for divorce:

be separated for at least one year.
either partner committed adultery.
either partner performed some sort of mental or physical cruelty on the other partner.
The most common ground for divorce is a one-year separation since any ground must be proven. Thus, in order to seek a divorce on the basis of adultery or mental or physical cruelty, the party must prove that it actually happened. This usually occurs when the partner who committed adultery or physical cruelty admits to doing so in an affidavit. Using a seasoned divorce lawyer in Calgary will help facilitate this.
Frequently Asked

Questions
What is my first step in getting separated or divorced?
The first thing you'll want to do is inform your partner. Have a friend or family member by your side in case your partner becomes angry or belligerent. Then tell your children, work out the living arrangements, and apply for a divorce application.
What is the difference between separation and divorce?
A separation involves two people who were previously living together (either married or common-law) who have decided to live in separate accommodations. A divorce is granted by a court; officially ending the marriage from a legal standpoint.
How long does it take to get a divorce in Calgary and what must be proven?
The time it takes for a divorce finalization will vary on a case-by-case basis. For divorces where no children and property are involves, the general time frame is 4 to 6 months. When there are children and property involved, you can expect the divorce proceedings to take longer. And you must prove that your marriage has deteriorated to the court and that your children are being properly supported and cared for.
Will I have to go to court for a divorce, or other reasons?
No, you can get a divorce in Calgary without having to go to court. Court isn't a necessity to file for divorce, as long as you and your partner can work through the process harmoniously. If such is the case, legal intervention is not required.